Marketing your practice can be challenging whether you are a seasoned dentist or are just starting out. But with the right strategies in place, you can retain your current patients and grow your practice. In this blog, we'll explore some marketing ideas for 2023 to help you stand out from the crowd.
1 – Leverage Social Media: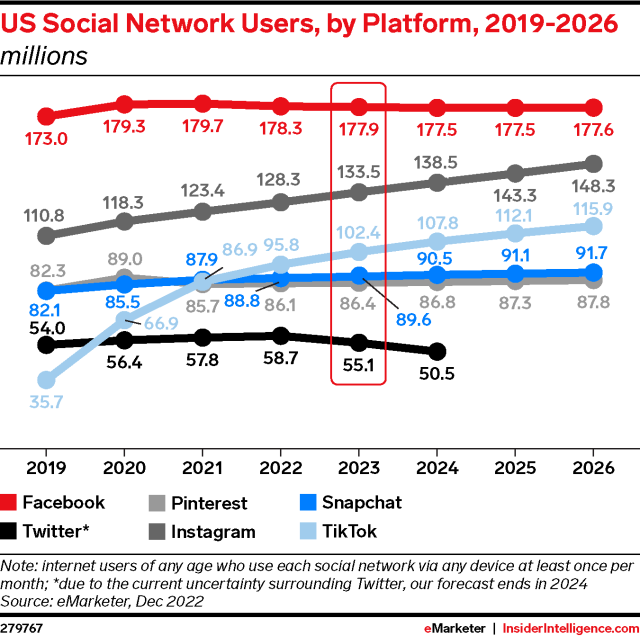 How popular is social media? In 2023, it is estimated that two-thirds of people in the U.S. will use a social media network at least once a month – eMarketer. Social media platforms such as Facebook, Twitter, and Instagram can be great marketing tools for dentists. You can use these platforms to share informative content, engaging visuals and videos, patient testimonials, and promotions. Make sure to include your contact information and a call-to-action in your posts to encourage patients to book an appointment.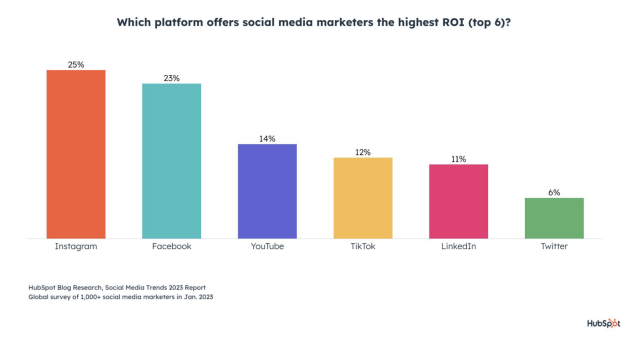 Social Media Trends for 2023
The fastest growing social network is TikTok – with a 100% user growth rate between 2000 and 2022.
The average American spends 33 minutes a day on Facebook.
Instagram has the highest ROI and is the most effective social channel for engagement.
87% of marketers say video content drives more sales, with short form video having the highest ROI.
2 – Local SEO:
Optimize your website for local search by including your location and relevant keywords on your website's pages. This will help your website rank higher in search results when potential patients search for dentists in your area. You can also list your dental practice on Google My Business and other local directories.
Increase your site rankings:
Make sure your dental practice website will appear when a search is related to location. List your practice on local citation pages, including ZocDoc, Yelp and Yellow Page.
Create a blog with original content that contains dental keywords that your patients may be searching for. Write in a natural voice, don't keyword stuff! Create inbound links from your blog to your internal website pages.
Use outbound links to connect with dental industry websites, such as the American Dental Association, and other industry sites.
Post patient reviews on your website – and cross-market with your social media pages. Ensure your practice reviews appear on Google Business Profile, Yelp, and other social channels. – RevenueWell.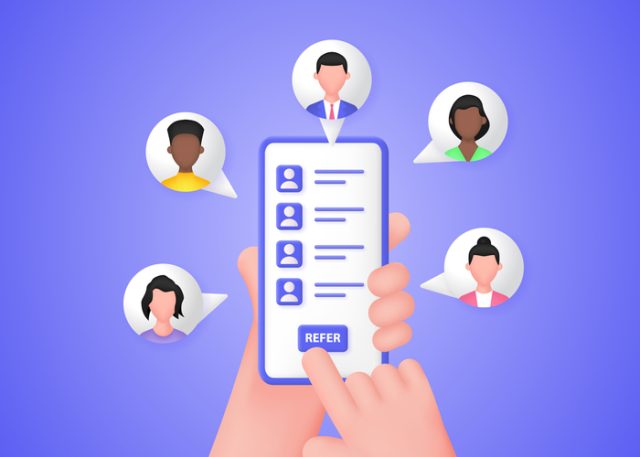 3 – Referral Programs:
Create a referral program to encourage your patients to refer their friends and family to your practice. Referral programs are a time-tested way to incentivize patients and promote your practice to their social circle. Offer gift cards or discounts on services.
Offer referral cards to patients at checkout.
Promote your referral program on social media and through email marketing.
Post signs in your office promoting your referral program.
* Be sure to follow the specific laws for your state – for example, the California Business and Professions Code Section 650 gives specific guidelines/prohibitions regarding prizes or gifts for referring patients through a loyalty program.
4 – Host Events and Engage with Your Community:
Consider hosting events such as open houses, seminars, or workshops. This can help you engage with potential patients and educate them about the importance of dental health. Make sure to promote your event on social media and through email marketing.
Host an open house during off-hours during the evening or weekend – offer giveaways like free toothbrushes and coupons for services.
Visit local schools to give workshops on dental health.
Enter your practice in a community 5K run and other local events.
Pack that backpack! Partner with a local school and host a school supply collection for students in need.
5 – Collaborate with Local Businesses:
Partnering with local businesses can help you reach new patients. You can collaborate with local gyms, spas, or salons to offer promotions or cross-promote services. This can help you build relationships in your community and generate new leads. For example, offer a teeth-whitening special to customers at your local salon.
6 – Email Marketing:
Businesses generate $36 for every dollar spent on email marketing. Use email marketing to stay in touch with your current patients and encourage them to book appointments. You can send newsletters, promotions, or reminders about upcoming appointments.
Personalize your emails and segment your list based on patient preferences.
Connect with your patients by offering valuable tips and advice about dental hygiene.
Offer discounts on products such as cleanings, check-ups, and cosmetic services.
Send a monthly enewsletter to build community with your patients.
Ensure your email subject lines and messages are mobile-friendly.

7 – New Mover Marketing:
With a focus on growing the local community, Welcome Wagon aims to create lasting relationships between new movers and local dental practices. Everyone needs a dentist– but finding a dental practice isn't usually new residents' first priority. By greeting impressionable new movers, dental practices can spark brand awareness and arouse interest with compelling offers.
New movers are much more likely to appreciate and take advantage of offers from a business that took the time to welcome them to their community. This opens the door for dentists to establish a personal relationship with these new residents from the very beginning.
Welcome Wagon knows that 85 percent of adults plan to visit their dentist at least twice a year and over 40 percent of new movers also have dental insurance.
What do these statistics mean? New members of your community are looking for a local dentist they can trust. Statistics also show that new movers spend more within six months of their move than average consumers spend in three years. New movers often become loyal customers (aka patients) of those businesses that contact them first.
Contacting new movers before your competition is crucial:
To get new movers to visit your dental practice.
To get new movers to become your patient.
With Welcome Wagon you can target new patients through print, digital channels, and social media with one easy step.
Marketing your dental practice doesn't have to be complicated. By implementing these strategies, you can effectively promote your services and grow your patient base. Remember to stay consistent, track your results, and adjust your strategies as needed to ensure success.
Contact us to get started marketing your dental practice today!