Good Works In The Community
Written By Andrea Aguirre from an interview with the founder of Second Hand Sanctuary, Valerie Bartlett. Everything below is shared using her voice. Why mess with perfection?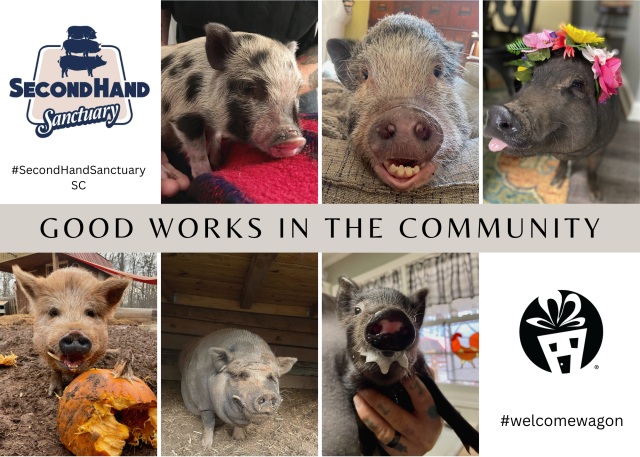 This nonprofit recently partnered with us for their business, The Spice & Tea Exchange® of Greenville. Our Community Marketing Executive, Joanne Owen, mentioned Valerie's nonprofit rescue in conversation, so we had to feature this in our Good Works segment. We love sharing these stories. This is a good one!
Valerie told us: "We are the Second Hand Sanctuary, a registered nonprofit rescue, located in beautiful South Carolina. Our mission is to care for pigs in need of rescue, help transport animals, educate the public, and do what we can to help current pig owners keep their pigs. Most of our pigs are owner surrenders, a few from local animal shelters, some we rounded up off the street ourselves and one of our girls is even a 'flying pig' all the way from California! Unfortunately, a lot of people get them without looking into pig ownership zoning laws or just don't know how big they can get.
Our sanctuary began six years ago when my husband gave me a choice for a birthday present that year. Gift number one was a weekend spent at the beautiful and prestigious Biltmore Hotel in Asheville, North Carolina, OR gift number two… a piglet. Knowing I had always wanted a pig, he had found the cutest, sweetest little 10-week-old piglet! I named him Oliver. My husband thought he was "getting off cheap" with the piglet but little did he know… Oliver would be the start of our Sanctuary!
Not long after Oliver we were told there was a pig running around on a busy street not far from us. My husband found him and brought him home. Archie and Ollie adored each other from the start! Pigs are a lot like people, they form strong bonds with other pigs, develop little families and care for one other within their herd. Being one of the smartest animals, alongside dolphins and apes, pigs have the mental capacity of a three-year-old child and there are days when we feel like we're overseeing a day care! Pigs throw tantrums, get into mischief, love to snuggle, eat snacks and nap. Lots and lots of naps, with blankets!
Our family grew faster than we could have imagined in just a few years. We fund our sanctuary by public donations and by owning and operating the Spice & Tea Exchange of Greenville, South Carolina. If you'd like help support us and our mission, you can do so by visiting our page at www.Facebook.com/secondhandsanctuarysc. You can also donate directly or shop the Spice & Tea Exchange of Greenville by visiting out website at: https://www.spiceandtea.com/greenville or even stopping by to see us!"
The Spice & Tea Exchange® of Greenville
864-509-0125
124 North Main Street
Greenville, South Carolina 29601
https://www.spiceandtea.com/greenville
P.S.: If you've got a story to share about a nonprofit you run or support, submit your request to: Jennifer.troyan@welcomewagon.com – please put "Good Works" in the subject line. Leave us your contact info an we will touch base.
Learn more about the Welcome Wagon family and how you too can be part of such a fabulous community.
Contact us for more information on our local marketing programs.